If you are coming to San Juan Island and your goal is to enjoy our wonderful wildlife and marine scenery, consider the following activities: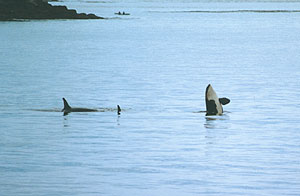 Join San Juan Outfitters on an adventurous 3 or 5 hour trek through some of the most spectacular scenery in the Pacific Northwest. When you come with us we promise to do our best to match your skill level, time constraints, and physical ability with the trip that is right for you.
See Orca Whales, Bald Eagles, Seals, Porpoise, Otter, Great Blue Heron, Seabirds, Sea Stars, Kelp Forests and more.
Our islands create the perfect conditions for Sea Kayaking. Our guides are trained to study these conditions and provide a wonderful safe adventure
Whale Watching
Friday Harbor or Roche Harbor, San Juan Island.

San Juan Safaris prides itself on providing high quality, small group Whale Watches. We operate two fast, well-maintained Coast Guard inspected vessels.

Our naturalist personally interacts with our guests, interpreting one of the most unique sea environments on the earth. Enjoy the thrill of seeing one of the most impressive animals on the planet, the Orca Whale. In addition we often see Bald Eagles, Seals, Sea Lions, Otters, Minke Whales, Porpoises and much more