Welcome to San Juan Island!
We have some wonderful and exciting activities that await you in "our little paradise". After visiting San Juan Island, you'll want to come back again and again!
Whether you come for a lengthy fun-filled vacation, or just visiting for a day or two, we can help make your visit one of the most enjoyable and memorable experiences ever.
TRANSPORTATION: Destinations include Roche Harbor Village, Whale Watch Park, Lavender Farm, Island Museum of Art / Sculpture Park, English Camp, Alpaca Ranch and Lakedale Resort.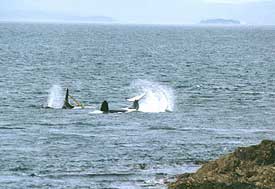 WHALES: See where Free Willy II was filmed. Nothing is quite as exciting as seeing up to 88 whales thirty feet away at Limekiln State Park / Whale Watch Park. Catch the experience June through Labor Day. Trek along the shoreline and by the restored limekiln and up to the overlook with fantastic views.
ENGLISH CAMP: See where the last "war" between the British & the yanks on American soil was "fought" over a Pig! Spend the day hiking around the encampment, up Mount Young and Mitchell Hill.
AMERICAN CAMP: Camp San Juan Island, today known as American Camp, was occupied by the U.S. Army from July 1859 through November 1874. Take a tour with the ranger and see Bald Eagles.
SNUG HARBOR: Ideal stopping off spot for boaters and fishermen. Nestled in sheltered Mitchell Bay, we are one of only two marinas on the West side of San Juan Island and absolutely the closest to fantastic whale watching, fishing and crabbing.
COUNTY PARK: We are located in a beautiful maritime archipelago of 743 islands (428 at high tide!)
SWIMMING, FISHING, PLAYING: From children to adults, activities designed for your enjoyment. Swim or fish in fresh water lakes and pools at Lakedale Resort & Campground.
HIKING: From one mile to eight, water's edge to hilltops there are several great scenic trails offered.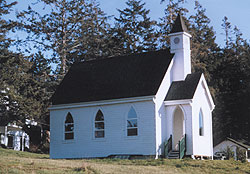 THINGS TO DO: We take you to the most popular places on the island. There's Wine Tasting, Bird Watching, Beach Walking, Whale Watching (from Whale Watch Park), Swimming, Fishing (fresh & saltwater), or see the Lighthouse! We can take you there! Friday Harbor also offers a diversity of eateries, shops and Art Galleries.
MUSEUMS: Everybody checks out the Whale Museum located in Friday Harbor. And, don't miss the Historical Museum.
ACTIVITIES: San Juan Island is an ideal place for Kayaking Tours, Whale Watch Boat Tours, Fishing Charters, and Scenic Flights. Bicycle and Moped rentals are also available.